Full range Audible and visible alarm devices are a indispensible component in any safety and security systems, it acts as a communication medium for early warning for man against danger and failure. Hence, absolutely reliable signaling devices are essential. We supply a complete range of alarm devices from well-known manufacturer with widely accepted industrial standard. To offer our customer complete solutions for their unique requirements.
General industries application: Sounder, flashing beacons and combination units. General signaling application including fire, gas detection, security and process control.
Marine grade—built with a robust , fire retardant, IP66, IP67 housing, suitable for harsh environment. High 119dB and 126dB output level.
Explosion-proof—ATEX approved, the BEx series robust construction makes installation in the harshest of environment possible, suitable for Zone 1, 2 21 & 22. Ex sounder horn and Xenon flashing light beacons.
Intrinsically Safety 'I' - IS mini series is compact  model. Approval include ATEX, IECEx and GOST-R for Zone 0 application and FM approval for class I division 1 and class I Zone 0 application.
Other models available  - Telephone initiated type, loudspeaker, LED light beacons and customised version.ATEX Explosion-proof manual call points are available as break glass, push button or tool reset versions. They are approved for Zone 1, 2, 21 and 22 hazardous areas for the control of fire and gas alarm systems. All types are available with EOL or series resistors, diode or Zener diodes or an LED indicator and also with either single or double pole change over switches. All versions are certified to ATEX and IECEx standards. Intrinsically Safe versions available.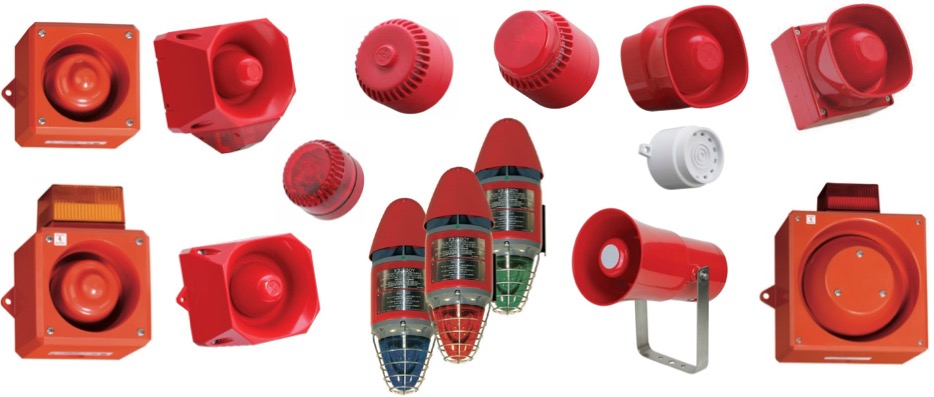 Other Models available: Symphoni, Flashni, Roshni, Asserta AS110, Asserta AS120, Asserta Midi Asserta AS120B, Asserta As110B. Sounders and Xenon Flashing beacon sounder with output level ranging from 108dB —120dB.
C&S models available: Yodalight, Yodalarm, Yodalex, YL5, YL6, YL8, YO4, YO5, YO8, V4, V4 LED,  Sounders, Xenon flashing beacon, LED flashing beacon, Xenon beacon sounder combination unit and Explosion Proof ATEX type.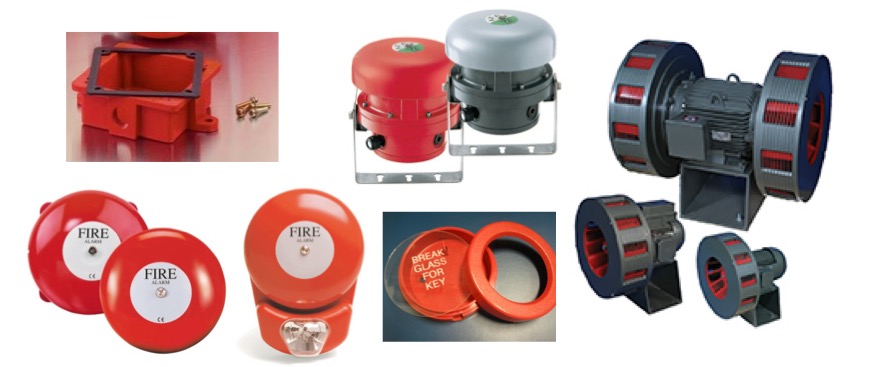 Other products available includes Motorised bells, ATEX explosion-proof motorised bells, Motor driven air siren, strobe light and bell combination unit and  Emergency break key box/holder.